Pac-Man's
Arcade Party

30th Anniversary
Limited Edition

25" LCD Monitor
Standard Cabinet

Commercial
Coin Operated Arcade Model




---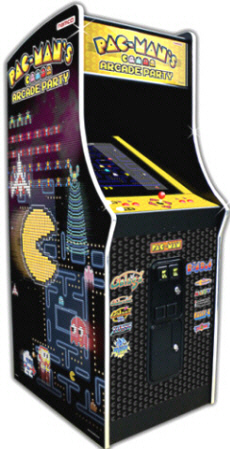 (Lift Gate-Curb)
$ 3175 !

Pac-Man's Arcade Party - 30th Anniversary Edition
Coin Operated Model - This new 30th Anniversary
Edition, packed with 13 classic 80's video arcade games
is called "Pac Man Arcade Party" and made by Namco
Bandai, the original manufacturer of Pac Man Arcade

Relive your past, and introduce young ones to the classic 1980's games just like the ones you played in the arcades ! Comes with (12) TWELVE Classic 80's Games : Pac-Man, Pac-Mania, Galaga, Galaga '88, Bosconian, Dragon Spirit, Dig Dug, Galaxian, Mappy, Rally X, Rolling Thunder and Xevious ! | Coin Model Does Not Include Ms. Pac Man.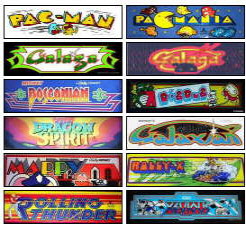 25" Commercial LCD Color Video Monitor - This Coin Operated Cabaret Model includes Two (2) Working
Quarter Coin Mechanisms + can be set for free-play.



Pac Man's Arcade Party Coin Brochure



Pac Man Arcade Party Coin-Op Manual



Pac-Man's Arcade Party Live Video



Optional 220V Power Conversion - Add $245



Product Condition : Brand New In Factory Box


Factory Warranty : Click For OEM Warranty Info


FREE Warranty : BMI Gaming One (1) Year Warranty


Power Requirements : 110 Volts | Optional 220V


Monitor : 25" Diagonal LCD Flat Panel Color Monitor


Players : 1 - 2 Player Classic 80's Video Arcade Game

Pac Man Arcade Party 25" Coin Model Dimensions :


Height: 68", Width: 24", Depth: 33", Weight: 395 Lbs




Galaga
Assault

Ticket Videmption
Arcade Game


---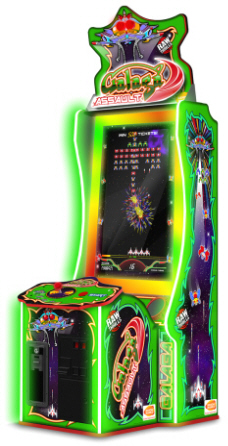 (Shows Factory-Produced Video Clip)
$ CALL

Galaga Assault Ticket Videmption Arcade Game -

For those who are or have been Galaga fans for years and for the ticket redemption rookies who may be playing Galaga for the first time, Bandai Namco and Raw Thrills have joined forces again to present Galaga Assault.

Players must destroy a wave of enemy ships for a
chance to defeat the mother ship and win the bonus !
And Galaga Assault comes with a new "add ships"
feature that allows the player to buy more ships and expand to an armada of up to 12 attacking ships.

And players can also automatically post their high
scores in Galaga Assault directly to Facebook with
Galaga Assault's unique QR Code scanning feature

With it's stunning 42" 1080p HD Monitor and Visuals,
along with its blazingly colorful cabinet and LED lights
Galaga Assault might be the most fun you'll ever have shooting down aliens and winning tickets in arcades !



Galaga Assault Game Brochure



Galaga Assault Service Manual

Galaga Assault Factory Video

Optional

220V Power Conversion -

Add $245



Product Condition

: Brand New In Factory Box


Factory Warranty

:

Click For OEM Warranty Info


Power Requirements : 110 Volts | Optional 220V


Monitor :
42" HD 1080p Color Monitor


Players : 1 Player Ticket Redemption Video Game


Galaga Assault Ticket Videmption Game Dimensions


Height: 109", Width: 34", Depth: 43", Weight: CALL